Meet the 2019 Hawkinson Scholarship recipients—undergraduate and graduate students who are accomplishing amazing things.
Hanna Wedajo, 2019 Jacobson Scholar
The Jacobson Scholarship is awarded to the top Hawkinson Scholar each year.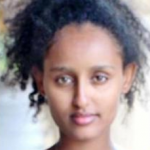 Hanna Wedajo, 27, is a PhD student at the University of Minnesota whose primary interest is improving school success for Ethiopian students. When she was a student growing up in Ethiopia, Hanna received help from the Gates Foundation. In response, she vowed to help others, a decision she recently described as empowering and life changing.
In 2013 she created Help a Child Go to School as a crowd-sourced initiative to support needy students in Dire Dawa, near her home village. That program – to help 14 students with basic supplies so they could stay in school – grew by 2018 into help for 300 students: 150 in Dire Dawa and another 150 in Ethiopia's capital city Addis Ababa.
Today a $25 donation covers annual school expenses for one student's basic supplies & books, school uniforms, sanitary materials and awards for outstanding students. The program is run by volunteer parents of students and reminds students to become change-makers, not passive beneficiaries.
21/2 million Ethiopian children of school-age don't attend school. Needs – such as farming chores, earning family money, suitable clothing and sanitary napkins, gender norms limiting girls' school access – frequently interrupt children's lives. Hanna knows first-hand how easily plans to attend school can be derailed; she recalls being advised to find a rich husband rather than stay in high school.
Hanna's PhD research will use Amartyna Sen's capabilities approach to delve into the many issues that cause students to leave school early.
Hanna has been the producer and host of a weekly radio program in Ethiopia. The show featured on-air discussions with the audience about the rights of women and children under Ethiopian law. She also worked part time at a local television station as a TV anchor. While in law school, Hanna volunteered with an organization to raise awareness about children's rights and provide training on the ethics of working with vulnerable children. She also helped students apply to college through a church charity club.
After graduating from law school, Hanna was executive director of Vision for Generation supporting 300 needy elementary school students and 500 female university students. In doing so, she helped overcome Ethiopian societal expectations that consider young women incapable of leadership.
Next, Hanna conducted research for the Center for Human Rights at Addis Ababa University while pursuing a master's degree in human rights. One project focused on why women with disabilities did not seek help from the legal system; the second investigated human rights abuses of female factory workers.
Hanna's previous education includes an MA in Human Rights from Addis Ababa University and an LLB from Dire Dawa University in Ethiopia.
Her long-term goal is to secure permanent funding and expand the program she started to Help a Child Go to School. For additional information, contact hannawedajo99@gmail.com.
Hanna was nominated by Emily Springer, a PhD candidate and research associate at the University of Minnesota. Emily was selected as the 2012 Jacobson Scholar by the Vincent L. Hawkinson Foundation.
Asma Adam
Asma Adam, 25, is a second-year student at the University of Minnesota School of Medicine. "As the daughter of Somali immigrants … I understand the challenges of leaving the land one calls home, living in a refugee camp, adapting to life in the United States, and working towards the American Dream."
While attending Concordia University in St. Paul, she helped start a Muslim Student Association but encountered opposition from the school's leadership who saw this as a rejection of its Lutheran tradition. Asma gradually built a relationship with the University president while attending several meetings of the university board of trustees. She explained to the trustees that the Muslim students were grateful for the education they were receiving. Their purpose was to create a stronger sense of community within Concordia by promoting interfaith dialogue and fulfilling the Concordia Promise that "All Are Welcome." Looking back, Asma cites this experience as a highlight because she challenged latent xenophobia and sought systemic change to address social inequities.
Growing up in the ethnically diverse communities of Fridley and Columbia Heights, she was inspired by her father, a high school principal, who consistently reached out to help others. In high school, Asma had a growing realization about health care inequities. This led to her desire to practice medicine. She points out that the United States is the only developed nation without universal health care. "As a Somali-American Muslim woman and future physician, I believe I have a unique perspective and ability to serve as an advocate for change. As the demographics of our local patient populations change, the backgrounds of our physicians should also reflect our communities."
While in medical school, she helped organize a community health fair so people from underserved groups could receive information about available social and health care services. They were also able to visit with a physician for general health care tips, participate in a group exercise class, and win yoga mats and lessons, recipe books, and cooking utensils.
"Even though a community health fair is not a solution to the systemic barriers faced by many in our communities, this experience inspired me to continue my work advocating for health equity. The ideas of preventive medicine and routine medical examinations are unfamiliar to immigrants accustomed to seeing physicians only when they are ill."
Asma has also been involved in a research project using faith-based messages during Ramadan to encourage Somali males to quit smoking and in a breast and cervical cancer education program for Somali women that encourages screenings in ways that are religiously and culturally appropriate. "Two commonly held beliefs preventing women from seeking screening include a belief in predestination and modesty between genders. By informing women that screenings were not against predestination and that the health care providers would be female, the women were more inclined to seek mammograms and Pap smears."
Asma is currently Co-President of SNMA (Student National Medical Association) Twin Cities. Its mission is to increase the number of clinically excellent and socially conscious physicians by supporting current and future underrepresented medical students through mentoring and networking and ultimately to eliminate disparities in health care access and delivery. Asma helps pre-med undergraduate students select appropriate classes and find extracurricular opportunities, such as research and hospital volunteering, and advises them about applying to medical school.
Asma hopes her future lies in political advocacy, mentoring and medical education. She intends to continue advocating for immigrant rights, health care access and women's rights. For additional information contact asma.adam786@gmail.com.
Asma was nominated by Mary Tate, Director of Minority Affairs and Diversity at the University of Minnesota Medical School.
Ingrid Kubisa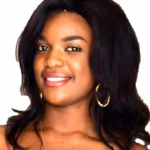 Ingrid Kubisa, 23, is a junior at Gustavus Adolphus College pursuing majors in interna­tional relations and communications. She was born in the Democratic Republic of the Congo (DRC) 6 months before a civil war began that would claim over 6 million lives since 1996.
"Due to continuing wars destroying families, my father created an organization called Let Africa Live (LAV) in 2000. LAV offers former child soldiers, and women raped by soldiers, job training and psychological support to re-integrate into society. My parents took me with them on their travels around the country to search for women and children who were victims of war. I did not really understand what was going on then. As I got older, I started to understand what my father was doing and I was inspired by how my parents helped people. I started to feel a call to do similar work. In high school, I gave food to some "street kids" who did not have families or a place to live. We became friends and I encouraged them to go to LAV for free job training. I was happy to see some of them changing their lives. Seeing kids watch those of us who were able to afford school pushed me to work hard so that one day I could come back and offer them something more than food."
After graduating from high school, Ingrid began working at LAV. She worked with women who had been raped and with their children. The DRC government does not recognize a child born of rape as a citizen because both parents must be identified and these children do not know who their fathers were. Ingrid joined with others to chal­lenge government officials to change the policy. So far, the reform has not been suc­cessful.
Ingrid's parents told her that when she was 6 months old, as her grandfather was dy­ing, he prayed that she would live to give hope to others – even those born during war, as she had been. So, in response to a Gustavus class assignment to find a hometown issue students wanted to change, Ingrid focused on the high rate of mis­carriages in her hometown of Bukavu, DRC. She identified the causes as war, poverty and traditions that do not allow women to talk about their sexuality. "Surprisingly, with more research, I found this problem is not only in my hometown but around the world. This made me curious about how to find solutions for my hometown and every­where else. I felt grateful for the opportunity to practice what I am passionate about: advocating for social justice."One day Ingrid was interviewing a woman with two children who said that Ingrid was too young to be working in the office. Ingrid replied that she was 19; the woman be­gan to cry, saying she too was 19 and had been raped twice. "Since that day I promised myself that one day I will help these women and children."
After graduation, Ingrid hopes to put her education in international relations and com­munications to work with international organizations to address the needs of the most vulnerable people in the eastern DRC and around the world. Ingrid can be reached at kubisaingrid@gmail.com.
Steve Solbrack, a retired executive who nominated Ingrid, wrote that her calm de­meanor, maturity, and wisdom cause others to look to her as a role model. "She cares deeply about the people of the Congo … and I have no doubt she will provide leadership on the Congo's journey to a more peaceful, less violent, more democratic future."
E Ornelas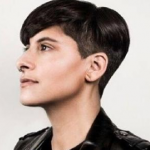 E Ornelas, 33, is a PhD candidate in feminist studies at the University of Minnesota with a BA from Portland State University and an MA from University of Wisconsin/Madison.
"Statistically, I am one among as many as 1 in 3 people of color assigned female at birth who will experience intimate violence in a lifetime. I am devoted to a career in academia where people of mixed racial and ethnic heritage—specifically, my family is Chicanx, European, and Indigenous Mexican (dispossessed of land, culture, language, and tribal identity)—have historically been underrepresented or forced to assimilate. Therefore, I feel a responsibility to illuminate the experiences of these forms of interpersonal and institutional violence."
Inspired by middle school and high school teachers, E has engaged in many activities responding to marginalization and violence against LGBTQ+ and women-identified people of color.
For five years, E has provided emotional support to a trans person in prison whose life would have ended without this support.
In 2016 and 2017 E was a key volunteer organizer of Fed Up Fest, a queer and trans music festival in Chicago that focuses on social justice and anti-oppression.
E currently leads the Midwest Trans Prisoner Pen Pal Project and previously volunteered for Black & Pink in Chicago; both are efforts to connect incarcerated transgender people, who are largely people of color, with support outside prison.
E has been involved in mentoring students of color to prepare for higher education and, while in Madison, Wisconsin, served as an advisor on diversity for the Willy Street Cooperative and for SHIFT, a national social justice consulting group.
E has held leadership positions at the University of Minnesota's Gender and Sexuality Center for Queer and Trans Life as well as the Trans Studies Colloquium at the University of Wisconsin.
E is committed to restoring self-determination to those most marginalized. One ambitious but hopeful approach is to transform the judicial system to rely on restorative justice rather than retribution. E's doctoral research examines community-based programs in Minneapolis that use restorative justice, hopefully leading to a compelling rationale about its benefits for victims, offenders and the entire community.
E will use the Hawkinson scholarship for this research with an ultimate goal to teach. "…teaching in higher education [is a] place I can continue to critically engage with issues of gendered and racialized violence with a wide audience. Ultimately, I am motivated by a deep sense of responsibility to [study people] who, like me, have been targets of gendered and racialized violence."
E can be reached at ornelas@umn.edu.
E was nominated by Taylor Marx at the MATCH Cooperative in Minneapolis.